Consultant
Bli en del av vårt dyktige konsulentmiljø! I Arribatec jobber vi hele tiden med å finne og skape de beste løsningene for våre kunder, og vi ønsker deg med på laget
Arribatec Group leverer digitale forretningssystemer, tjenester, rådgivning og infrastruktur til et globalt marked. Vårt team inkluderer 350+ av de beste konsulentene, programvare ingeniørene, utviklerne og prosjektlederne i bransjen, spredt over 17 land. Vi er børsnotert med hovedkontor i Oslo. Lær mer her.

Vi har behov for flere medarbeidere innen ett av våre forretningsområder - Arribatec Business Services som leverer de løsningene virksomheter trenger for å styre sin forretning. Vi forenkler veien til målet for våre kunder ved å iverksette, tilpasse, drifte og vedlikeholde hele det digitale system landskapet, gjerne med ERP som kjernesystem. Vi innlemmer ERP-systemet med våre egenutviklede løsninger og andre markedsledende systemer, som Power BI og Hypergene, for å gi kunden full kontroll, effektivitet og innsikt i egen virksomhet. Vi tar også ansvar for å utvikle kunde spesifikke løsninger for å utnytte virksomhetens unike egenskaper.

Vil du jobbe med system implementeringer og ha en kundeorientert rolle? Hos Arribatec får du muligheten til å utvikle deg i en konsulentrolle innen ERP!
Arbeidsoppgaver 
Rådgi våre kunder innen Unit4 ERP
Delta i design, test, oppsett, dokumentasjon og problemløsning hos våre kunder
Kunne ta et selvstendig faglig ansvar for en prosess og/eller et produkt
Bidra aktivt i det interne fagmiljøet med erfaringsutveksling og innovasjon
Hvem er du?
Du trives med tekniske utfordringer og trigges av å jobbe i skjæringspunktet mellom kunder, fag og systemer. Du har en sterk interesse for teknologi.
God serviceinnstilling, driv og engasjement er en fordel i denne rollen. Du er en lagspiller, kommuniserer godt og har en «can-do»-mentalitet. Som person er du nysgjerrig, åpen for å tilegne deg kunnskap og ønsker å dele den kunnskapen og ekspertisen du allerede sitter på. Du kan snu deg raskt rundt, og håndtere oppdukkende oppgaver på en god måte.
Ønskede kvalifikasjoner
Høyere relevant utdanning på universitets-/høyskolenivå
Erfaring kan kompensere for manglende utdannelse
Erfaring med ERP-system er en fordel, men ikke et absolutt krav
Liker å jobbe i et hektisk miljø ute hos kunder og med stor grad av serviceinnstilling
God til å planlegge og gjennomføre egen arbeidsdag
Liker å dele kunnskap og erfaring med andre kollegaer
Bidrar positivt til å bygge og videreutvikle Arribatec sin kultur
Hvorfor skal du velge Arribatec?
Arribatec er stedet for de som ønsker å jobbe et sted hvor de får innflytelse, kort vei fra ide til diskusjon og liker å jobbe med produkter og tjenester som er nye og innovative. Vi er internasjonale, børsnoterte og vokser raskt. Videre skjer det av og til mye og da er det fint å ha en jobb som tilrettelegger for fleksibilitet. At du vil bli kollega med veldig mange dyktige og hyggelige kollegaer vil nok bety at du har lyst å fortsette karrieren din i Arribatec - for vi ønsker å bistå deg med din personlige og faglige utvikling.
Hva vi tilbyr
Et generøst, solid og inkluderende arbeidsmiljø
Kompetente, profesjonelle, entusiastiske og engasjerte kolleger
Spennende kundeprosjekter
Gode muligheter for både faglig og personlig utvikling, samt påvirkning i arbeidshverdagen
Konkurransedyktige betingelser og gode forsikring- og pensjonsordninger
Søknader vurderes fortløpende.

Ta gjerne kontakt om du har noen spørsmål til stillingen.

Business unit

Locations

Employment type

Full-time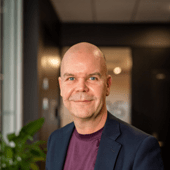 Contact
Joar Aarenes
Director ERP Norway – Business Services
Are you our next colleague ?
International career opportunities

Being a global provider of digital business solutions, we offer an international work environment and global tasks.

The Arribatec spirit

Our most valuable resource is our employees. We want our employees to feel that they have meaningful job in which they want to continuously improve their performance.

Make it your own

We give you the possibility to influence, take ownership, and be a part of a journey that has only just begun.
Life at Arribatec
Arribatec delivers digital solutions, services, consulting & infrastructure to companies and institutions where human capital makes up most business.
At Arribatec we nurture a welcoming, friendly atmosphere and non-hierarchical mindset. By giving our employees the possibility to influence and take ownership of their own role we encourage a dynamic, enthusiastic and diverse workforce. We embrace diversity in terms of age, gender, nationality and experience as we believe diverse teams has the best means to uncover opportunities and ensure customer success.
About Arribatec
Our mission is to provide simplicity.
We empower organisations by turning technology into an enabler for growth.
Our global team includes 350+ of the best software engineers, developers, project managers and consultants in the business. We are listed on the Oslo Stock Exchange with headquarters in Oslo.
Consultant
Bli en del av vårt dyktige konsulentmiljø! I Arribatec jobber vi hele tiden med å finne og skape de beste løsningene for våre kunder, og vi ønsker deg med på laget
Loading application form
Already working at Arribatec?
Let's recruit together and find your next colleague.